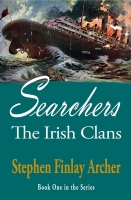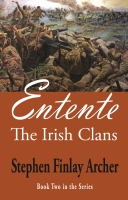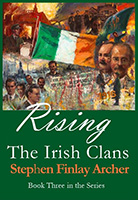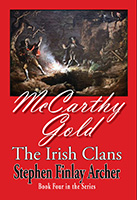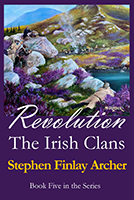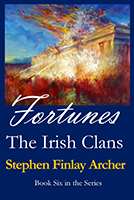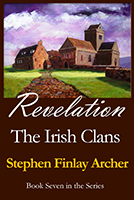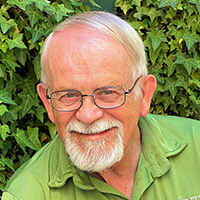 The Irish Clans is an epic story immersed in the tumultuous Irish revolutionary period of 1915 through 1923, while the world is embroiled in the Great War and its aftermath. The once mighty McCarthy and O'Donnell Clans, overthrown in ancient times, are not extinct. They are linked on two continents by a medieval pact entwining military history and religious mythology. Divine intervention plays a pivotal role in unearthing the secrets of the Clans' treasure and heroic exploits. The patriotism and passion of Celtic heritage lies at the heart of this intriguing story.
A tragedy at sea sets in motion the search for life's true treasures, both in 1915 Ireland, when the funeral of Fenian Rossa fans the flames of revolution, and in America, where the clans begin a journey toward their destiny in Searchers, the first book of the series.
Published March 2016.
The mysteries of an ancient Clans Pact deepen beneath the horrors of WWI as Irish Rebels march toward revolution in Entente, the second book in the series.
Published May 2017.
Irish Republican martyrs rise against overpowering British forces to spark the revolution in the 1916 Easter Rising, while the Clans search for unity and treasure to honor the Clans Pact of their ancestors in Rising, the third book in the series.
Published January 2019.
In the aftermath of the Easter Rising, the Clans and murderous Head Constable Boyle seek each other and the McCarthy treasure, while Collin searches for his missing sister in McCarthy Gold, the fourth book in the series.
Published January 2020.
The Clans battle the British during the Irish War of Independence while seeking to unravel the clues to the O'Donnell treasure crafted by their ancestors in Revolution, the fifth book in the series.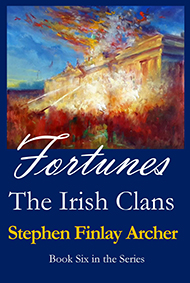 The mysteries of the O'Donnell Clan are explored in Fortunes, the sixth book in the series, set in the last year of the Irish Revolution's War of Independence upheaval leading to the Anglo-Irish Treaty of 1921.
The Clans, while supporting the Irish Civil War in 1922–1923, seek to unravel and unearth an ancient religious mystery that has confounded civilization for centuries in Revelation, the seventh book in the series.