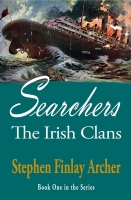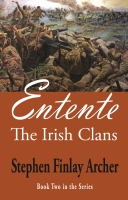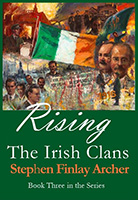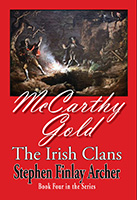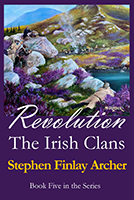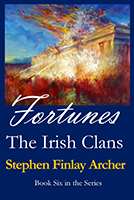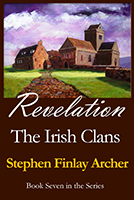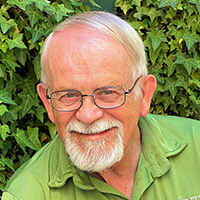 Heritage Palms – Irish to the Core Weekly Blog 22
This week I am departing from an Irish history topic to discuss the wonderful reception I received last evening at the Heritage Palms Golf Club in Indio, California. There I discussed my literary journey and my THE  IRISH CLANS series of novels with the book club members and other acquaintances of my dear friends Elaine and Stephen Robinson.
I do this in part because of the sense of fulfillment I get from meeting kindred literary souls who can appreciate not only my literary work but also the joys, trials, and tribulations of being an historical fiction author.
Being an Irish blog I will say that some of those present are of Irish ancestry, at least in part. All of them expressed an interest in the Emerald Isle, its friendly people, and adventures there by my wife Kathy and me.
Many of these bibliophiles had read SEARCHERS, the first novel in the series as a novel with their book club. They were eager to learn about the other novels in the series, particularly about Book Two, ENTENTE. I left book one with a cliffhanger ending for my main characters Tadgh McCarthy and his compatriot lover Morgan.
I told them four of the seven books in the series have been published and are available on Amazon. Book five will be available for Christmas delivery. 
They urged me to continue the pursuit of trying to get this story national recognition through streaming services such as Netflix.
Stephen R., my wife Kathy, and I had made aerospace our main careers. I told my audience, " as a former "rocket scientist" I can say with authority that that profession does not hold a candle to the challenges and fulfillment of being a novelist."
We discussed the value of having a creative hobby or second career after retirement to keep us young at heart. I mentioned the importance of preparing for this during our main career to allow a smooth transition. I referenced the friendship and kindred spirit I had found on LinkedIn with Carlo Pietro Sanfilippo, a fine literary gentleman who is interested in this topic. We had a lively discussion when he interviewed me for his podcast, which I can highly recommend (https://carloblog.com).
The main point of writing this blog, however, is not to focus on my work and process but to discuss creative non-fiction, or memoire writing. I mentioned to this group of mostly retired professionals that I had taken such a course. It was enlightening for my own life history and had opened my eyes to the need to write my own story down.
We discussed the fact that we all have family stories to tell. In most cases our adult children and grandchildren in the exuberance of youth are too busy to listen to them. I wish I had taken the time to learn more from my parents before it was too late.
I mentioned my possible interest in writing another novel about the California Gold Rush era. I live in Angels Camp, one of the motherlode towns in the Sierra Nevada foothills.
Afterwards one engaging woman in the group came up to me to talk. She told me about the fascinating journey of some of her ancestors to get to California to participate in the goldrush and what happened to them later in life. I urged her to write down this exciting story at least for her offspring.
In addition to the joys of passing on our uplifting personal stories and those who came before us, we should all remember, learn from, and heed our past. Otherwise, we and those who follow us risk repeating it.
Which is true of history in general and one of the reasons I write what I do.
Thank you book club members for a stimulating evening at Heritage Palms! 
Stephen's novel series "The Irish Clans" can be purchased at https://amzn.to/3gQNbWi