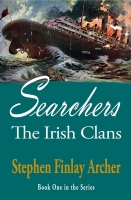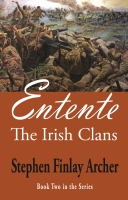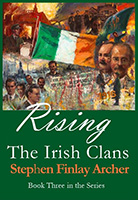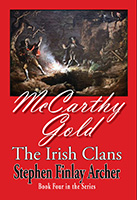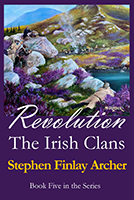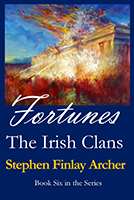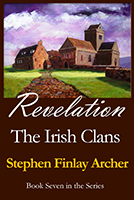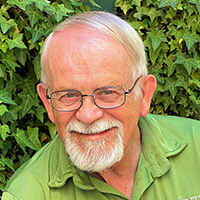 Midwest Book Review, The Irish Clans, Book Two, Entente – Irish to the Core Weekly Blog 30
Today I want to share with you the recent review of my second The Irish Clans novel titled Entente. This word is defined as an informal alliance between states or factions.
A) Midwest Book Review by Diane Donovan, Donovan Literary Services
Entente: The Irish Clans Book Two by Stephen Finlay Archer, Manzanita Writers Press, 9780990801955                       
The ancient clans' pact and influence that was outlined and developed in Searchers expands in Entente, Book Two of The Irish Clans series.
Here, Irish revolutionaries involve Germany in their cause as World War I emerges, challenging Irish Republican Tadgh McCarthy and his lover Morgan to continue their battle for Irish freedom, albeit under the cloak of a wider-ranging war.
As these events take place, Irish-Canadian Collin continues to agonize over his vanished sister Claire's fate and his own failing marriage.
The interplays between politics and personal lives and family clans and world events, that began in Searchers broadens and continues in Entente, where the overlay of war changes everything in a blend of fact and fiction that keeps readers involved not just in politics, but personal lives.
Stephen Finlay Archer's ability to weave history into a gripping, action-packed story line that captures disparate characters' special interests and dilemmas keeps his series absorbing even for readers who may harbor little initial interest in the historical fiction genre.
Morgan and Tadgh's relationship and concerns were introduced in Searchers, but here the two really blossom as world events expand to encompass and challenge their beliefs and objectives.
From blockades and risky confrontations to preparations for a Rising that operate within the confines of bigger conflicts, Archer creates another thoroughly engrossing story that contrasts Irish interests and perspectives with events going on in the rest of the world.
His ability to keep these developments moving swiftly on both a personal and political level makes Entente a powerful story. It builds on its predecessor's events, but also stands nicely alone as it weaves a tale of Irish forces continuing their struggles under the atmosphere and outside conflicts of other nations during World War I.
Readers who like historical fiction infused with the lives of ordinary people turned revolutionaries will find Entente's ability to craft believable characters and scenarios based on historical truth spiced with fictional events makes for riveting reading that, once again, is hard to put down.
B) Author Insight for Entente
The Irish struggle for freedom from an oppressive Britain predates the conquering of the Clans at the Battle of Kinsale, January 1602. Freedom fighters, even then recognized the need to have military and political allies for support. In 1602 it was the Spanish, still at odds with the Protestant English and smarting from the loss of their Armada of ships in 1588.
The 1798 Irish Rebellion led by Wolfe Tone was assisted by the French who were at odds with Britain at the time, after their recent revolution against the Ancien Régime of Bourbon Louis XVI and before the Napoleonic Wars.
Therefore, it is not surprising that the Irish rebels sought support from the Germans during WWI as they planned a Rising against their oppressor since Germany and Britain were embroiled in a massive war on the continent.
Part of the strategy was that British forces would be diverted from their primary fight on the continent.
The Clan na Gael, see my Blog # 11 in the USA led the diplomacy with the German Ambassador Heinrich von Bernstorff. John Devoy, Blog # 16 and member of the secret revolutionary Irish Republican Brotherhood, Roger Casement, proposed that the Irish would revolt against Britain if Germany would sell guns and provide military leaders for the rebellion. From October 1914 until just before the 1916 Easter Rising, Roger Casement attempted to implement such a plan from within Germany, with much frustration.
If you choose to read Book Two, Entente, you will be embroiled, yourself in this intrigue in the midst of the War to End all Wars. Happy reading.
Stephen's novel series "The Irish Clans" can be purchased at https://amzn.to/3gQNbWi